REAL ESTATE: NEW OFFICE BRINGS WELCOME UPGRADES TO SERVICES
Creating a Patient-Centered State-of-the-Art Environment
Monday, August 27, 2012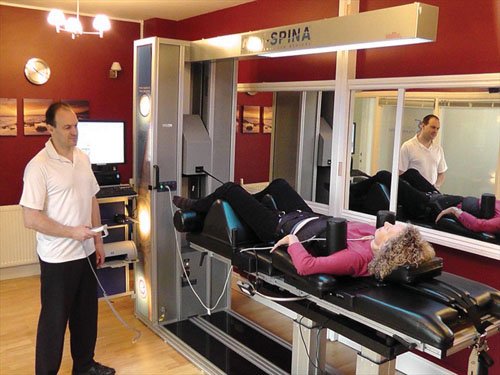 Often an unexpected ending can lead to a welcome fresh start.
Such is the case for PainCare of San Diego, which after six years in a traditional UTC office is moving to a more contemporary, high-tech space in Sorrento Valley, after the UTC building's owner, The Irvine Co., decided not to renew medical leases there.
By Sept. 20, PainCare and its staff comprised of a medical doctor, two physician assistants, a chiropractor, two massage therapists and a physical therapist plan to start transitioning to a larger 5,200-square-foot space on Carroll Canyon Road.
The move will bring advantages from reduced rent to free parking. PainCare's owner and president, Dr. Michael Moon, says parking fees charged by Ace Parking Management Inc. at the previous site have been costing him $1,500 per month in validations.
"I saw this as being more of a business decision to ensure the financial security of the company," said Moon, whose primary specialty is physical medicine and rehabilitation and secondary specialty is pain medicine.
The demolished interior offered a clean slate for renovations estimated at $55 per square foot, with the landlord chipping in half the cost of tenant improvements.
Tight Deadline
San Diego Office Design was selected to do the makeover based on samples of work done by principal and owner Tamara Romeo. With a tight deadline of only a few months looming since planning began in June, Romeo set to work on a very fast-paced design-build schedule.
Going for a contemporary look that blends with PainCare of San Diego's sophisticated medical equipment, a highlight of the new space is a conference room which can serve as a training facility with a camera setup that allows students and doctors to view surgical procedures as they're happening in another room.
The functionality of the room will be enhanced with electrical wiring running through the floor and up the legs of the table that enable anyone attending a class to plug a laptop or cellphone right into the table.
Added to the note-taking and video viewing conveniences will be a paperless environment. Every exam room will have a computer to access electronic medical records and even the X-rays are digital so the images can be sent to a radiology group for analysis. The efficient system reduces the need for filing cabinets and off-site storage space.
The extra room in PainCare's new facility allows the medical group to bring in Medx Core Machines that patients didn't have access to before. These specialized sports and medical strengthening equipment for the spine will allow the staff to introduce a medically proven rehabilitation exercise program, said Danny Song, a licensed chiropractor and qualified medical examiner who serves as PainCare's rehab director.
Prev Next