PRODUCTION: PROCESS OF 3-D PRINTING CAN CUT COSTS, DELIVER QUICKLY
Making its Mark
Monday, August 20, 2012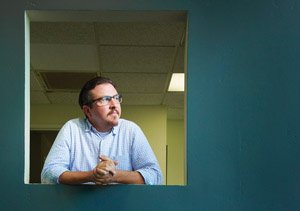 Even after the product is mass produced, this gives companies an easier and quicker way to make further changes, he said.
Faster Turnaround Time
Working with more traditional injection mold manufacturing processes, those kinds of changes would typically take weeks or months to do, and cost hundreds of thousands of dollars. The process was usually done in China, Weber said.
Using 3D printing technology, a common turnaround time for a project is one to three days, he said.
Scott McGowan, marketing director for Solid Concepts Inc., a 3D printing company based in Valencia with an office in Poway, said both the technology of making objects as well as the objects themselves are better than in the early days when the plastic didn't last as long.
In some instances, the machines print in metal and other sturdy substances and serve as the actual working component or product, he said.
The big advantage to making things through 3D printers is the ability to make changes if the early prototypes don't work exactly as expected, McGowan said. "You have more control over the production lifecycle because you have the ability to make changes early," he said.
Perhaps the most eye-opening developments involving 3-D printing entails the ability to replicate human organs.
Tissue on Demand
Organovo is a three-year old San Diego company that is licensing its patented technology to make human tissue for drug developers exploring the effects of the drugs.
Early clinical drug trials usually require testing on animals, and in later stages, on humans, but there are obvious advantages if the substances can be tested much earlier on human tissue, said Keith Murphy, Organovo's chief executive.
"It's better than animals because it's obviously made with human cells," he said.
Today, the company's technology produces tissue contained in human blood vessels, muscles and skin, but some day, the bioprinters may well create replacement kidneys, livers or hearts.
"We're still many years away (from full organ reproduction) … But over time we think it can be developed on our platform," Murphy said.
Instead of using acrylic resins, Organovo's bioprinter uses human cells as its building blocks. The machine places the cell aggregates in a predetermined pattern and within microns of each other, allowing them to naturally fuse together.
Organovo partnered with Invetech, a San Diego and Australian company, to build an improved bioprinter, making it simpler to use and producing human tissue faster, said Peter Riddell, Invetech's operations manager.
Recognized By Time
The cutting edge technology was recognized globally including by Time Magazine, which included it on a list of the 50 best inventions of 2010.
"For the first time, we can provide a flexible technology platform for organizations working on many different types of tissue and organ construction for research and medical applications," Murphy said.
Solid Concepts, which maintains a 40 person Poway office, has been around for about 20 years, has seen a nice uptick in business in recent years from a variety of industries such as aerospace, medical devices, consumer and business products, and the military, McGowan said. The firm that is on track to generate $60 million in sales this year has also provided its services to special effects studios for big budget movies, he said.
But at least a quarter of Solid's revenue comes from custom manufacturing where clients need to have a single part or a limited run of a particular product, McGowan said.
The speed and cost of getting objects made from 3-D printers is a huge leap over the way things were previously made, he said.
"You're getting things made in days rather than years or months," McGowan said.
Prev Next