EDUCATION: COLLEGE OF BUSINESS ADMINISTRATION ADAPTS TO BUDGET CLIMATE
Dean Puts Resources to Work For Business's Next Generation
Monday, August 13, 2012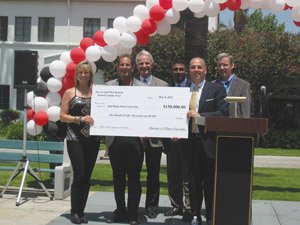 "The average sale in my ad agency was over a million dollars so I always wanted to have the t's crossed and the i's dotted and I felt it was important to help others to step up to it," Osinski said.
The lecturer on selling skills and practices at SDSU said he hopes the sales specialization program will help better prepare students for what is often their first real-world job experience. He added that he's a believer in the value of sales skills and their ability to help build better relationships and carry over into other aspects of life.
Intertwined with fundraising and a desire to head in new directions, the College of Business raised $15 million during the past 13 months and created eight advisory boards for its departments, centers and institutes with a combined 150 members who consist primarily of alumni and business partners. In addition to their philanthropic endeavors, they mentor students, provide internships and jobs and offer advice on the types of skills and competencies the students need in order to be successful in the workforce.
"One of our biggest assets that we have at the university is our alumni," Cunningham said. "We are indeed in and of San Diego in that roughly 75 percent of our alumni still live in Southern California.
"Many of our alumni have risen to top positions in major corporations, politics as well as entrepreneurial companies," he said, citing such graduates as Costco founder Jim Sinegal, Qualcomm Inc. marketing executive Dan Novak, Sempra Energy President Mark Snell and Jack in the Box CEO Linda Lang.
Prev Next