EDUCATION: COLLEGE OF BUSINESS ADMINISTRATION ADAPTS TO BUDGET CLIMATE
Dean Puts Resources to Work For Business's Next Generation
Monday, August 13, 2012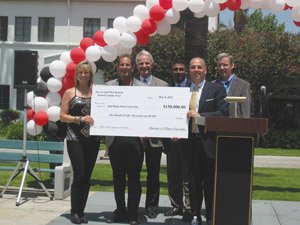 "Having done that, it's important to note that you can't cut your way to the top," Cunningham said. "We needed to demonstrate to our investors — our alumni, business partners and taxpayers — that we're really good stewards of the resources that they give us, and building upon that foundation we can go out and raise more funds for transformational change."
So along with cost cutting came a renewed focus on investing in the College of Business' strengths and devising innovative ways of raising funds.
One of the university's next big goals, for example, is selling the naming rights to the College of Business for $40 million. The university is already getting ready to announce the entrepreneur whose name will appear on the Entrepreneurial Management Center as part of an $8 million naming gift. With funds flowing in, Cunningham said the college can develop programs and support faculty and staff as well as finance such things as student run incubators operated in collaboration with the College of Engineering and College of Sciences.
Other initiatives that are getting a shot in the arm with donations are a Financial Markets Laboratory opening in the campus library Sept. 21 and a sales specialization program that's expected to launch in fall 2013.
The Financial Markets Laboratory, designed to teach students about financial literacy and financial markets as well as equip them with skills to be successful in the financial services industry, started with a seed gift of $100,000 from Stephen and Marjorie Cushman. The challenge, led by Stephen Cushman, chair of the College of Business Administration board of directors, was to raise additional funds for a world-class laboratory. With a contribution of more than a million dollars from an undisclosed bank, the funds for the laboratory will reach beyond a million and a half dollars by the time it opens.
Supporting Education
The sales specialization program is still in its nascent stages but is gaining momentum with a $150,000 donation from SDSU marketing Professor Steven Osinski and his wife Ellen and an additional $100,000 grant from 3M. The program will combine the expertise of the Marketing Department and the Management Information Systems Department to blend the best of data analytics and relationship selling and marketing.
The motivation behind the program stems from Steven Osinski's experiences at his direct marketing and advertising agency, the The SMART Group, which specialized in working with wireless companies before being sold to Monster.com.