EDUCATION: COLLEGE OF BUSINESS ADMINISTRATION ADAPTS TO BUDGET CLIMATE
Dean Puts Resources to Work For Business's Next Generation
Monday, August 13, 2012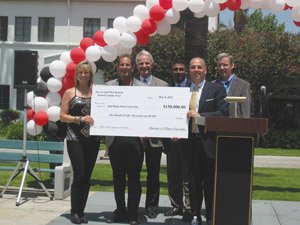 There was a time when it was easy enough for Michael Cunningham to apply classroom theory at New York University to his printing business, Cunningham Graphics International. Years later, he's now in the more challenging position of applying lessons learned in the corporate world to his activities as dean of the College of Business Administration at San Diego State University, a position made much more complicated by the state's continuing budget woes.
Cunningham said using his final thesis at NYU to take his then company international and eventually taking it public on Nasdaq in 1998 started his real affinity and relationship with universities. After graduating with a master's degree in 1995 he started teaching courses in quality control and business plan writing at NYU. Then after selling his successful company to Automatic Data Processing he came to San Diego to retire in 2000. While still living in Rancho Santa Fe, he began pursuing his Ph.D. at NYU and simultaneously taught classes in international business strategy and entrepreneurship at SDSU. Upon completing his Ph.D. in 2005, he bought back ADP and continued running it from England with 2,000 employees and 19 factories in six countries.
"Basically we bought that back to turn the business around and wound up selling it to a private equity firm a few years later," said Cunningham, who returned to the region and is now living in Solana Beach.
'To Do More With Less'
With dual experience in education and business, he was well-positioned to compete against a hundred other applicants for the role of dean of SDSU's College of Business after Gail Naughton left the position. The rigorous national search culminated with his appointment in June 2011. His first priority in light of budget cutbacks came as no surprise: restructuring the organization to be as lean and efficient as possible.
"One of the edicts we had to develop was to do more with less," said Cunningham, adding that the College of Business's budget was reduced by more than a million and a half dollars in his first year as dean.
Savings were made by restructuring the graduate office and Entrepreneurial Management Center along with increasing the tenured/tenured track faculty workloads by one-third. Cunningham said they pared the faculty down from a ratio of 65 percent tenured/tenured track and 35 percent lecturers to closer to 80 percent tenured/tenured track and 20 percent lecturers. Through attrition, staff levels were reduced by about 10 percent, he said.
Prev Next