SERVICES: ACADEMY'S CURRICULUM COVERS BOTH SERVICES AND OPERATIONS
The Business of Beauty
Monday, August 13, 2012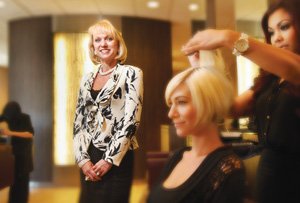 Judging by a few of their recent accolades Bellus truly has made a name for itself.
In 2011, Bellus was ranked along with schools in Holland and South Africa as among the top three internationally in Intercoiffure's "Best School Award." In 2010 and 2011, Modern Salon's Excellence in Education issue recognized Bellus Academy as an honoree for its outstanding achievements in marketing, technology, facilities, placement and career services. Also in 2010 and 2011, P&G Salon Professional held a student competition and Bellus students received the first place award for both years.
Award-Winning Staff
Diego Raviglione, artistic director for Bellus whose roles include recruiting educators with strong industry talent, said two of the Bellus staff were honored recently at the Wella Professionals North American Trend Vision Awards. Comparable to the Olympics for hairdressers, Raviglione said Matt Hom, a manager for Bellus, won a gold award, and Carrera Bailey, a Bellus color director, won a bronze. Hom will advance to represent the United States in a worldwide competition in Madrid in late October.
"Our whole goal, our whole philosophy, is that we want to produce the top 10 percent in the industry and in order to do that our educators need to be at the level that is not the average," Raviglione said. "We want to raise the whole level all around. That's why we have educators that win global competitions."
Raviglione, along with Master Educator Nick Berardi, introduced the S.T.A.R. Precision Haircutting System to the Bellus cosmetology program. An acronym for Shape, Technique, Action and Result, the online haircutting and coloring curriculum focuses on fundamental techniques that enable students to grow their abilities technically and creatively.
"We take chances, we have this philosophy that we're never done," Raviglione said. "We're always moving onto the next thing. The greatest strength is we're never finished, we take it to the next level, the next step and push the boundaries of what a beauty school is and really elevate that."
Prev Next