SERVICES: ACADEMY'S CURRICULUM COVERS BOTH SERVICES AND OPERATIONS
The Business of Beauty
Monday, August 13, 2012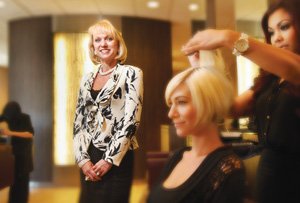 Curriculum is All-Encompassing
Joanne Berry, Bellus director of spa and wellness, said a key to the schools' success is keeping the curriculum current or steps ahead of the latest trends with such offerings as an Inclusive Health Program that's being introduced to keep up with interest in wellness and nutrition. The 40-hour course accredited with the National Accrediting Commission of Cosmetology Arts and Sciences encompasses longevity of life and taking care of the body emotionally.
"We really want to make sure the curriculum is in line with what the students need when they get out there in the work force," Berry said.
An important part of career readiness is signing students up to work in the field as "externs."
Gayle Fulbright, owner of Headlines THE Salon in Encinitas, says she's hired seven Bellus graduates out of the Externship program in the past couple of years. Fulbright said she prefers to hire Bellus students to work at her 25-year-old salon because they have a little bit more business savvy and they take their careers seriously.
During the Extern program, students get to shadow a mentor for eight weeks and experience what it's like to work in a salon other than actually cutting hair. On Mondays, when the studio is closed for education, the externs are invited to join staff in learning the latest techniques.
"It gives our team an opportunity to interview them and at the same time the student gets to find out if we're the right culture for them," said Fulbright, who shares her real-world experiences at Bellus.

Four Campuses Combined to Create Bellus
Four schools under the Bellus umbrella were born of separate identities. A National City campus was formerly named Bay Vista College of Beauty, an El Cajon branch was formerly JE Boutique and the Poway location was previously known as Poway Academy of Hair Design. Another school in Manhattan, Kansas, was known as American Academy of Cosmetology and Massage Therapy.
Lynelle Lynch took on the task of giving the schools a "regal and elegant" name based on the 15th century Latin word for "beauty" with the help of three public relations companies. The transition occurred over several years because Lynch said the schools had established brands in the community and earned recognition with awards.
"How did I think I could create something that would be internationally recognized, really recognized in the beauty industry as a leader in education?" Lynch said. "I needed to make Bellus a successful name."