SERVICES: ACADEMY'S CURRICULUM COVERS BOTH SERVICES AND OPERATIONS
The Business of Beauty
Monday, August 13, 2012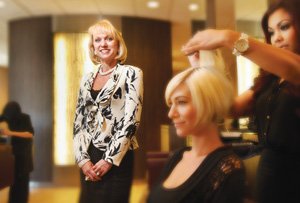 What most people don't see when they're enjoying a luxurious spa experience or salon pampering is the work that goes into training the service providers. A behind-the-scenes look at the operations of the Bellus Academy gives a view of the effort that goes into preparing the technicians for successful careers while elevating the perceptions of the industry.
Walking into the 20,000-square-foot, internationally recognized, award-winning Bellus Academy in Poway, one of four campuses which underwent a $2.5 million makeover in 2008, gives a glimpse of the hands-on activities that provide training to the prospective hair stylists, massage therapists, estheticians, nail technicians and makeup artists. About 1,000 students attend day and evening programs throughout the year at all four campuses. Currently 730 students are enrolled, including 270 at the Poway campus, and they spend six to 18 months in training.
The real-life experience extends to pampering employees of companies that sign up for Bellus' Corporate Wellness Program, a benefits program that 25 companies including LA Fitness and Costco Wholesale Corp. have joined since it was launched last year.
"We strive to be recognized as the Harvard of beauty schools," said Bellus President Lynelle Lynch, whose husband William Lynch bought the first Bellus Academy in 1972.
With 17 courses to choose from, students also learn during classroom instruction by way of a combination of video and lectures. Courses in esthetics, for example, take students through lessons in chemistry, biology and anatomy. State licensing requires a minimum of 600 hours of instruction for an esthetician, but an additional 600 hours are available to students who aim to work at the top luxury spas such as La Costa Resort & Spa or Hotel del Coronado.
Thoroughly professional from start to finish, the schools are accredited, enabling qualifying students to apply for grants and financial aid. When the students enter the program, they're equipped with the finest tools of the trade, from professional grade brushes to $300 scissors.
The business side of beauty holds a special place at Bellus where students are taught such things as establishing a social media presence to building their own brand in a Best in Business class. These types of skills are necessary when 31 percent of the graduates become entrepreneurs, Lynelle Lynch said. A Financial Literacy course is also offered as these entrepreneurs need to learn about budgeting, saving and using credit wisely.
One of several beauty schools in San Diego County, Bellus' closest competitors are Paul Mitchell the School San Diego and Marinello Schools of Beauty.
Prev Next