DINING: HOT DOG ON A STICK LOOKS TO EXPAND WITH NEW FOOD
Food Court Success Has Chain Hungry for More
Monday, August 6, 2012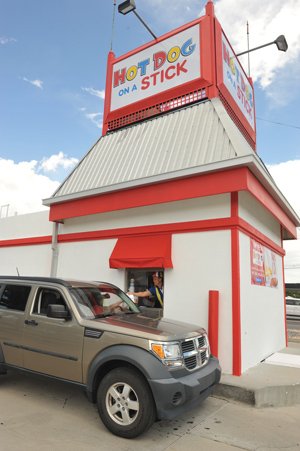 HDOS ENTERPRISES
CEO: Dan Smith.
Revenue: $38 million in 2011.
No. of local employees: 115.
Investors: Company is fully owned by its approximately 900 employees.
Headquarters: Carlsbad.
Year founded: 1946.
Company description: Operates more than 100 Hot Dog on a Stick restaurants in 12 states, selling hot dogs, lemonade and related items.
Key factors for success: Testing drive-through services, breakfast offerings and alternative venues and formats, aiming to move beyond regional mall food courts.
At age 66, Carlsbad-based Hot Dog on a Stick is looking to learn some new tricks, on the theory that its biggest fans don't just crave corn dogs and fresh-squeezed lemonade at county fairs and mall food courts...