REAL ESTATE: RESIDENTS FIND BOTH COMMUNITY AND RETAIL CONVENIENCE
Home And 'Away From Home' Come Together in Mixed-Use
Monday, April 30, 2012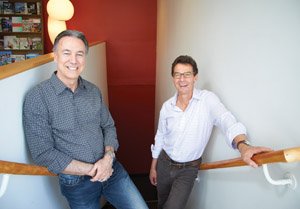 No Need for a Car
"A lot of this development is being done to promote the social aspect of life," Sessa said. The idea is a family could walk down the block, dine at a restaurant, then hang out together at a nearby fountain, all without even thinking of getting into a car, he said.
Paul Barnes, division president for Shea Homes, the subcontractor on Civita's residential units, said instead of mixed use, he prefers the term "adjacent use."
The commercial and retail isn't located beneath the residential in Civita as it is with many other mixed-use projects, but close by, he said. "It's a simpler, and easier for homeowners to understand the project it there's a bifurcation of uses," he said.
Shea Properties is developing a project that has both residential and commercial parts in Barrio Logan called Mercado del Barrio. The key retail tenant for this project is Gonzalez Northgate Market, a supermarket chain of 33 stores that's focused on serving mainly Latino customers.
Retail Tenants Must be Right
Barnes and other developers say that getting the right retail tenant into a particular project is critical for its success.
"You don't want to put a barbecue smokehouse in a residential community," Barnes said. While most mixed-use developments build commercial space on spec (not having tenant leases signed beforehand) a space's general use is usually pre-determined, he said.
Malmuth of Idea Partners said instead of pre-planning for retail space, his focus is more on the office space that will be occupied by high-tech, design oriented companies in the district.
"We're trying to find companies who want to be in this urban environment," he said, adding that his firm has been talking with a few local cutting edge businesses including Qualcomm Inc. and Legend 3D.
A key byproduct of the Idea District is attracting the type of younger, educated workforce that has generally forsaken living in suburban, tract-centric places, several industry sources said.
"These are Generation Y millennial," Malmuth said. "The car has lost a lot of romance for them …They want to be in urban spaces that are walkable and rich in culture and amenities," Malmuth said. "These are people who pick where they want to live first, and then they pick how they're going to support themselves…They're not interested in working in a suburban business park where the highlight of their day is going to a Quizno's."
No Dead Zones
Segal agreed the retail component of mixed-use project can make or break it. Without some retailer that's generating foot traffic, the project could deter other retailers from locating nearby and might result in a dead block, he said.
Segal and his partners in the Little Italy project called Fat City had to shift gears this year, changing the makeup of the project from apartments to a 365 room hotel. While not obligated to do so, Segal incorporated some elements from the former Topps nightclub at the Pacific Coast Highway site into the project. The hotel itself will have two restaurants, but the actual tenant in the ground floor space has yet to be determined, he said.
Mixed use works best in denser urban environments; but it's not necessarily the right answer for every new residential development, Malmuth said.
"It's not for everywhere and not for everybody, but if it's done in the right location with the right execution, it will be a financial success, and also be successful in terms of building a community," he said.
Prev Next