REAL ESTATE: RESIDENTS FIND BOTH COMMUNITY AND RETAIL CONVENIENCE
Home And 'Away From Home' Come Together in Mixed-Use
Monday, April 30, 2012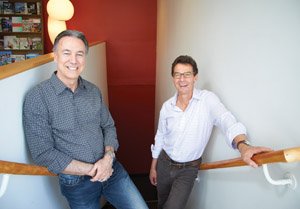 The combination of lack of land and local planners' focus on creating housing closer to jobs is driving the development of more mixed-use, residential projects, say local building industry sources.
"Most of the development that we'll see in San Diego will be for infill projects because it's impossible to find large parcels of land and get these entitled (obtain all appropriate permits)," said David Malmuth, president of Idea Partners, which is trying to develop about 90 acres in the East Village section of downtown San Diego.
Malmuth, along with partner Pete Garcia, are part of growing trend of builders who have abandoned older planning concepts of constructing separate housing and retail/ commercial spaces.
Single purpose projects that don't include at least some retail aren't getting built as much, especially in denser, urban areas, said Malmuth. His firm wants to turn the upper East Village into a design district, which would be a haven for a variety of design-oriented industries including industrial design, advertising and graphics.
For the most part, downtown San Diego is largely made up of mixed-use residential and commercial projects, said Derek Danziger, spokesman for the Centre City Development Corp., which oversees redevelopment in the area.
Smart Growth
"A great majority of the projects we're doing here are mixed-use because we're trying to activate the pedestrian experience," Danziger said. The goal for downtown and really for all the entire city is smart growth, ensuring that whatever new housing is built is located nearer to jobs and to transit centers, and necessary retail and commercial segments are also close by, he said.
Not only are denser, compact projects more efficient, they're better for air quality and the economy because people don't use their cars as much, said several local developers.
"Mixed-use is civilized living," said infill specialist developer Jonathan Segal, who lives in a live/work space in the Q Building in Little Italy. "In the last 10 years I haven't been driving back and forth to work, and probably saved about 2,500 hours of drive time…I've lived one year longer than most people who had to spend that time commuting to their jobs on the freeway."
Marco Sessa, a senior vice president with Sudberry Properties, said the demographics are causing an increase in mixed-use development. "People are looking to live in places where they have easy access to services," Sessa said.
Sudberry is in the midst of building one of clearest examples of an integrated live-work mixed-use project in the heart of Mission Valley called Civita. Earlier this year, some of the first of 200 condominiums went up for sale, and recently a first wave of tenants moved into what will be a total of 500 residential units in the first phase of the project. At buildout, Civita will have nearly 5,000 residential units as well as office space, retail space, a civic center and park space.
Prev Next