Executive Profile: Rick Hoffman
Monday, April 30, 2012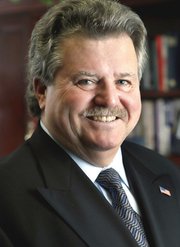 RESUME
Name: Rick Hoffman.
Company: Coldwell Banker Residential Brokerage.
Titles: President and COO, San Diego County and Temecula Valley.
No. of employees: Approximately 90 and 1,100 sales associates.
Year founded: 1906.
Education: B.A. in marketing from San Diego State University, certificate from University of Pennsylvania's Wharton School of Business, Real Estate CEO Leadership Program.
Birthplace: Los Angeles.
Age: 64.
Current residence: Santaluz.
Family: Wife, Anne; daughters: Andrea, Shannon and Ashley.
Rick Hoffman is president and chief operating officer for Coldwell Banker Residential Brokerage's San Diego County and Temecula Valley region. With 23 branch locations and approximately 1,100 sales associates throughout San Diego County and Temecula Valley, Coldwell Banker Residential Brokerage is a leader in full-service real estate.
BUSINESS PHILOSOPHY
Essential business philosophy: Hire the best real estate agents. Educate them to the marketplace and support them when they have questions.
Best way to keep a competitive edge: Stay in tune with market statistics and trends — all the way down to the micro ZIP code level.
Guiding principles: Integrity, accountability and supporting my managers, staff and agents with continued education and learning resources.
Yardsticks of success: Continue to increase market share throughout San Diego County despite a difficult and competitive market. Retain professional agents who grow and prosper with Coldwell Banker for long periods of time.
Judgment calls
Best business decision: Merging my company Coldwell Banker Associates Realty with Coldwell Banker Residential Brokerage in 2005, which allowed us to work through the difficulties in the market with the support of a large international company.
Worst business decision: Not buying enough residential real estate over the years and holding it as income producing rental property.
Biggest missed opportunity: Not taking a more aggressive expansion strategy with Coldwell Banker Associates Realty in 1997-2002, we missed an explosive growth period in the real estate market and had we mirrored that growth, we could have increased our profits and in doing so sold for a greater net value when that time came.
Mentor: Father Jorge da Silva, a Marianist priest. I believe he was the first Catholic priest ordained in a wheelchair, and he was the principal of my high school. He taught me to always find the positive aspects in life and this has been a key influence personally and professionally. Another was S.G. "Gene" Payte, a real estate developer and friend. Gene taught me about real estate development and the appropriate ways to take risks in real estate. More importantly, he taught me many life lessons that have influenced me significantly. Finally, Fred Salzer, my partner for many years. Fred is a quiet man of great intelligence, character and integrity.
Prev Next