FINANCE: IPO ACTIVITY, GOOD STOCK MARKET CAN SPUR MORE VC INVESTMENTS
Targeting & Timing
Monday, April 16, 2012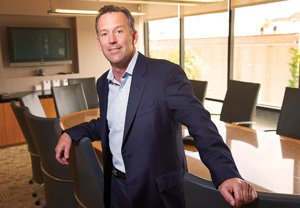 The partners at JMI Equity were smiling when ServiceNow Inc. filed documents recently for a planned initial public offering.
A San Diego venture capital firm, JMI has a 54 percent stake in ServiceNow, a fast-growing San Diego company that provides cloud-based computing and information technology services to businesses.
Paul Barber, JMI's managing general partner, wouldn't talk about the investment, citing a federal regulatory "quiet period" that prevents comment on upcoming IPOs, but noted that earlier exits have generally benefited investors.
Once a business issues stock, investments in the company can be more easily sold. As an early investor in ServiceNow, most recently pumping in $5 million in 2006, JMI has a chance to realize a profit — especially if ServiceNow's shares appreciate when they're issued.
JMI is by far the largest investment firm based locally, with about $2.1 billion in capital under management. In late 2010, the firm raised $875 million for a seventh fund, the largest in its 20-year history.
Investment Team
Investors include public and private pension funds, endowments, fund of funds, and a handful of individuals. The company's name derived from John Moores, majority owner of the San Diego Padres whose family has invested in all seven funds, but remains a limited partner and has no involvement in how the money is deployed, Barber says.
"We're growth equity investors," Barber said. "The areas that we're most heavily in are software, the Internet, business services and health care IT."
In 2011 and through the end of March, JMI did eight new investments; in its two decades, it's done about 100 investments and currently has 42 active companies in its portfolio, Barber says. Generally, companies getting funded have revenue ranging from $10 million to $50 million and are operating in fast-growing industries. Many of them are founder-owned businesses and aren't receiving venture capital.
Two winning JMI investments made in San Diego are Arrowhead General Insurance Agency, sold for a reported $395 million in January, and DriveCam Inc., which provides video recording systems for transportation fleets and raised $85 million in new private equity last year.
Perhaps the most successful investment was DoubleClick, an Internet marketing firm, acquired by Google in 2008 for a reported $3.1 billion. Asked what JMI's cut was, Barber just said, "We don't reveal dollar figures, but it was a good outcome."
David Titus, president of the San Diego Venture Group, says the recent increase in planned IPOs and a generally improved stock market in the past six months have helped spur more venture investment activity.
Prev Next