Palomar Health Finishes Construction on 'Hospital of the Future'
HEALTH CARE: District Plans to Open $956M Facility in August
Monday, April 16, 2012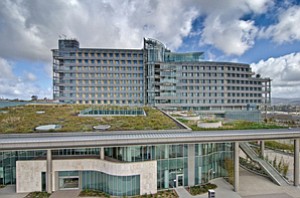 Technological Advancements
The San Diego office of DPR Construction managed construction of the hospital, which involved nearly 6,000 people, according to Palomar Health. Los Angeles-based CO Architects designed the "hospital of the future," as it's been dubbed since it incorporates technological advancements that will support electronic medical record keeping and an array of wired and wireless technologies.
The hospital, for example, is working with Sotera Wireless of San Diego to develop a continuous monitoring system for patients. Although still waiting for U.S. Food and Drug Administration approval, Sotera's continuous monitoring device records such vital signs as heart rate, respiratory rate and oxygenation. A technology called Medical Information Anytime Anywhere is also under development for physicians. The system pulls information from hospital electronic medical records as well as from the Sotera monitoring device, and is designed to put information at the fingertips of clinicians while they are not on site.
Palomar Medical Center was partially financed by Proposition BB, a $496 million bond measure that district voters approved in 2004. Other sources of funding were general obligation bonds issued by Palomar Health, revenue generated from operations, and philanthropic efforts of the Palomar Health Foundation, which included contributions from employees.
Palomar Health, which currently operates two hospitals, two skilled nursing facilities and two outpatient health buildings, is scheduling a grand opening celebration at the new hospital at 2185 Citracado Parkway on July 28. The district employs about 4,000 people and is affiliated with more than 800 physicians.
"It's been eight years since we passed Proposition BB and now we are finally going to be occupying the new hospital," said board Chairman Ted (T.E.) Kleiter in a news release. "We're looking forward to the move in and setting up the hospital, and for the community celebration on July 28 and the eventual move in on Aug. 19."
Prev Next
Page 2 of 2.