TECHNOLOGY: UNMANNED AVIATION INDUSTRY GROWING
Flying High
Monday, April 16, 2012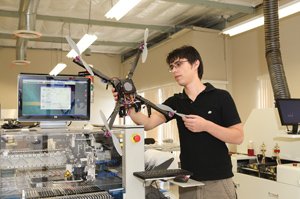 It's a land rush in the air.
Jordi Munoz Bardales is one of a handful of San Diego entrepreneurs staking out new territory in the rapidly commercializing field of unmanned aviation.
Munoz, 25, is CEO of 3D Robotics Inc. Working out of a Kearny Mesa business park, his enterprise produces and sells components for model-size unmanned aircraft, providing them to hobbyists, college engineering programs and other entrepreneurs.
Its specialty is autopilot electronics.
Early in the venture, Munoz said, he saw that he might be onto something when he assembled 40 autopilots and sold them in a single day. "I realized I had a business here," Munoz said.
Munoz works at the micro level. At the macro level are Austin Blue and Eddie Kisfaludy. The two fly a small business aircraft that doubles as a test bed for cameras and other sophisticated new technology that may one day ride on unmanned aircraft.
"We operate a surrogate UAV," said Blue, referring to unmanned aerial vehicles.
The military makes extensive use of unmanned aircraft, to spy on the battlefield and to deliver weapons. But they may have peaceful missions, too.
Coming to U.S. Airspace
The federal government is loosening regulations for the use of unmanned aircraft in U.S. airspace. In February, President Barack Obama signed the Federal Aviation Administration reauthorization bill. One of its many provisions is to let drones fly in the national airspace by 2015.
Those drones might be handheld models able to hoist small cameras aloft. Or they might be bigger models able to carry heftier imaging equipment and the electronics that go with it.
Camera-equipped drones may one day be the choice of paparazzi. People already have used camera drones for real estate sales, taking pictures of properties from unique vantage points. Federal officials closed at least one such business, because drones can't yet be used for commercial purposes.
Blue said farmers may one day use drones and sophisticated sensors to determine what areas of their fields need water or fertilizer; they use conventional aircraft now. Researchers might also use drones to find items of interest in wide expanses of forest or ocean.
These aircraft can be as small as four-rotor copters that resemble a flying letter X, and can be put together with a few hundred dollars. The copters built by 3D Robotics run on open-source software. College engineering programs like them, Munoz said, because students can analyze software code, modify the code, improve the product (or crash the copter) and learn in the process.
Prev Next