SPORTS BIZ: DIVERSE OFFERINGS SPREAD THE WEALTH AROUND COUNTY
Home Team Wins As Sports Draw Crowds and Consumers
Monday, April 9, 2012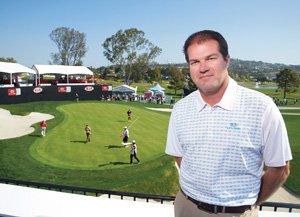 Women's golf gets nowhere near the media attention that the men's game does, but last month's Ladies Professional Golf Association Kia Classic broke some new ground when the Golf Channel let some of the competitors into the broadcast booth and behind cameras, at least for a few shots.
"We tried some different things to showcase the product, and I think it turned out well," said Dennis Baggett, the director for the event which wrapped up at La Costa Resort and Spa on March 25.
As sporting events go, the Kia Classic wasn't a blockbuster, but it was no small shakes either, Baggett said. "We had 49 of the top 50 women's golfers on last year's money (winnings) list, and drew fairly well on Thursday and Friday rounds, had an overflow crowd on Saturday, and not as well on Sunday because of the weather."
While Baggett didn't provide actual attendance, he said it was close to the 42,000 who attended the tournament the last time it came to La Costa two years ago.
Besides generating a full house at the Carlsbad resort, visitors filled rooms at area hotels and dined at local restaurants, and in general helped support the local economy.
It was the kind of sporting event that is repeated many times in and around San Diego County, which has a deserved reputation as one of the nation's most sports minded cities, deriving significant economic activity from sports-related businesses.
Wide Open Field
Sports-related tourism is just one piece of the pie. Among other slices are sports equipment manufacturing, professional and amateur sports events, retail sales of sporting goods, all the parks, fields, pools, golf courses, tennis courts, gyms, hiking and bicycling trails, and let's not forget the Pacific Ocean where folks here recreate with a passion.
"I guess professional sports is more visible to everyone and their impact, especially when something like a Super Bowl (last held locally in 2003) comes to town, is huge. But if you add up all the youth sports that we have going here, the impacts are tremendous," said Kelly Cunningham, chief economist for National University System Institute for Policy Research.
An annual golf tournament in Carlsbad called Callaway Junior World Golf Championship had a direct economic impact of $863,000 in 2008, according to a NUSIPR analysis, Cunningham said.
The nonprofit think tank conducted a study of the local golf industry that same year that found aggregate revenue from all golf manufacturers (32), golf courses (90), tournaments and travel, merchandise sales, and related services was $2.6 billion. The local industry in 2008 had about 26,900 employees, the report said.
Prev Next