SPORTS BIZ: ENTERPRISE GROWS FROM ONE TRAINING AID TO SEVERAL HUNDRED
Athletic Gear Manufacturer Hits Stride With Expansion
Monday, April 9, 2012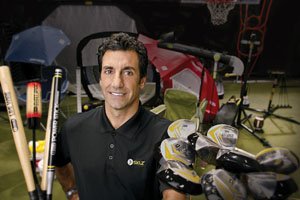 The level of competition and emphasis on improving performance in one's chosen sport doesn't just apply to top collegiate and professional athletes, but to high school and even earlier stage levels, says Sarkisian. That isn't something he necessarily thinks is great, but the reality of what has occurred over the last several decades, he says.
He launched the business in 2002 with only a few products and a few hundred thousand dollars. By 2005, SKLZ was selling about 20 devices. Today, the company's catalog numbers more than several hundred, with most selling in a range of $30 to $40, although the highest priced items can run above $200, Sarkisian said.
While the business began as a direct-to-consumer model, today, the company does most of its business, about 97 percent, through retail channels. The rest is sold directly. Among the retailers are the biggest sporting goods chains in the nation, including Dick's Sporting Goods, the Sports Authority, Sports Chalet and Big 5 Sporting Goods.
Sales Growing Internationally
The SKLZ equipment moves fairly well, and is a good seller in the accessories and training aid categories, said Andrew Conners, manager of the Escondido Dick's Sporting Goods. "Everything they make is very easy to assemble, and very user-friendly."
International sales are picking up in the last few years. "We're now selling in 34 countries including Europe, Asia and Latin America," Sarkisian said. "We just opened distribution in the Middle East. About two years ago, the international sales were less than 2 percent of the total. This year, they'll probably account for about 10 percent."
There's competition in the space, including some of the largest sports equipment makers in the world in Nike and Adidas America Inc., but Sarkisian says those much bigger companies aren't as innovative or nimble as his.
The company makes all its goods at plants in China, Taiwan, India and other low cost nations. SKLZ did a little manufacturing in this country early on, but moved it offshore once volumes got higher, he said.
Jobs here mostly involve sales, marketing, logistics, business analysis and some engineering. It has five openings now.
Not everything Sarkisian touched turned to gold, although he's done well with a few other investments including Semtek, a software firm acquired by Verifone, and Brightscope, a data analytics firm that's growing fast. Pat & Oscar's, which the Sarkisian family launched in 1991, filed for bankruptcy protection last year.
Prev Next