SPORTS BIZ: ENTERPRISE GROWS FROM ONE TRAINING AID TO SEVERAL HUNDRED
Athletic Gear Manufacturer Hits Stride With Expansion
Monday, April 9, 2012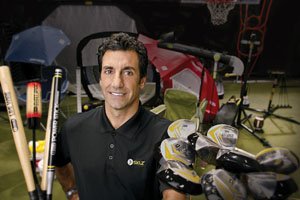 PRO PERFORMANCE SPORTS
CEO: John Sarkisian.
Revenue: $60 million in 2011; $46 million in 2010.
No. of local employees: 60.
Investors: About 25 family and friends.
Headquarters: Carlsbad.
Year founded: 2002.
Company description: Developer and manufacturer of sports training equipment.
Key factors for success: Continuous innovation, expanding distribution network and great people.
John Sarkisian thought he might have something when his sports training manufacturing business did a television commercial that captured 800 orders right out of the gate.
"We did a commercial soon after we started in 2002 when we were selling directly to consumers that got 800 orders for the 'hit-a-way,' but we only had 50 in our inventory," said Sarkisian, the founder and chief executive of Pro Performance Sports, which sells its sports training devices under the SKLZ brand.
The hit-a-way is a contraption that helps baseball players improve their hitting, using a tetherball-like system with a ball attached to a cord that returns after being struck.
The hit-a-way became an instant hit with younger players, coaches and parents, and SKLZ sold about 300,000 of the items in its first year. Last year, the company said it did about $60 million in gross sales, up from $46 million in 2010.
Sarkisian's business has done so well in recent years, he's had to move to bigger quarters, relocating last week to a 150,000 square foot facility in Carlsbad previously used by Callaway Golf Co. to develop golf accessories. It now has 60 employees.
SKLZ's first group of products were aimed at younger athletes trying to hone their game and included training tools for baseball, football, soccer, golf, basketball and a few other sports. Recently, the business expanded its product line with fitness-oriented training devices aimed at improving fundamental skills such as speed, quickness, strength and balance.
Delivering a Total Solution
In 2010, SKLZ entered into an agreement with Athletes' Performance Inc., a sports training company that caters to both professional and amateur athletes and operates five training facilities around the country. The partnership provides customers with expertise about how to best use the devices to enhance their training program, Sarkisian said. "We're delivering to the athletic community a total solution," he said.
SKLZ is capitalizing on the trend of younger children concentrating on a single sport. If little Johnny discovers he can hurl a ball with both speed and accuracy better than most, chances are he'll stick to playing and training baseball year round, rather than playing basketball or soccer in the off-season.
Prev Next