Executive Profile: W. Brian Ahern
Monday, April 2, 2012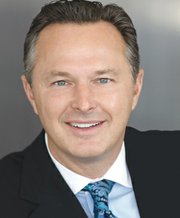 RESUME
Name: W. Brian Ahern.
Company: Ahern Insurance Brokerage.
Title: President.
No. of employees: 33.
Year founded: 1997.
Education: BBA, University of San Diego, 1985.
Age: 50.
Current residence: La Jolla.
Ahern Insurance Brokerage is one of the largest independently owned insurance brokerage firms in the country, specializing in the insurance needs of law firms. Ahern represents more than 3,400 law firms and is the endorsed insurance provider for San Diego County Bar Association, Orange County Bar Association, The Bar Association of San Francisco, Los Angeles County Bar Association and State Bar of Arizona. W. Brian Ahern is the president of Ahern Insurance Brokerage.
BUSINESS PHILOSOPHY
Essential business philosophy: Building long-term business relationships.
Best way to keep a competitive edge: Always be one step ahead of your competitors.
Guiding principles: Always do the right thing.
Yardsticks of success: The success of others who work for the agency.
Goals yet to be achieved: Establishing a national platform (versus mostly West Coast) for our services.
JUDGMENT CALLS
Best business decision: Specializing in the legal industry.
Worst business decision: A few bad hires that were made along the way.
Toughest business decision: What is the best age to retire?
Biggest missed opportunity: I hope that I have not missed it!
Mentor: Unfortunately, there was no mentor — but I have had plenty of trusted advisers including lawyers, accountants and other business owners.
Word that describes you: Caring.
TRUE CONFESSIONS
What you like best about your job: Making clients happy.
What you like least about your job: Clients who don't appreciate our services.
Pet peeves: Insurance companies that come in and out of the market quickly.
Most important lesson learned: Business is a marathon not a 10k.
Person most interested in meeting: It was Steve Jobs. I find his company to be amazing.
Three greatest passions: Family, friends and a variety of interests.
First choice for a new career: This is my last job!
PREDILECTIONS
Favorite quote: "No person will make a great business who wants to do it all himself or get all the credit." — Andrew Carnegie.
Most influential book: Any biography of a successful person.
Favorite status symbol: Financial independence.
Favorite restaurant: Donovan's Steakhouse La Jolla.
Favorite place for business meetings: The University Club.
Favorite vacation spot: Hawaii.
Favorite way to spend time: With friends and family and on the golf course.