ENERGY: OUTLET A FIRST LOCALLY; OPENING NEAR SDG&E CENTER
Solar Company Gives Retail a Chance to Shine
Monday, September 12, 2011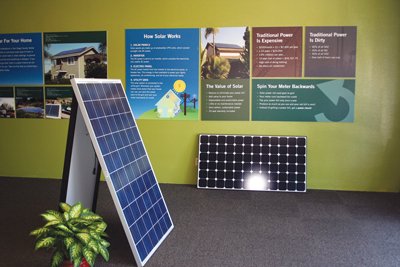 STELLAR SOLAR INC.
President and CEO: Kent Harle.
Financial data: Not disclosed.
No. of local employees: 27.
Headquarters: Carlsbad.
Year founded: 1998.
Company description: A residential and commercial solar photovoltaic design and installation company with more than 600 installations in San Diego County.
Key factors for success: The company focuses on consumer outreach through its new store, free dinner seminars at Sammy's Woodfired Pizza restaurants and a partnership with Enterprise Rent-A-Car to give away Nissan Leaf rentals.
Amid blazing competition among solar-panel dealers in San Diego, one is seeking to differentiate itself by changing the way that consumers and businesses shop for rooftop photovoltaic systems...