TECHNOLOGY: PHONES, TABLETS BRING QUALCOMM'S IMAGES, INFORMATION TO LIFE
Tickets to the Augmented Reality 'Show'
Monday, May 9, 2011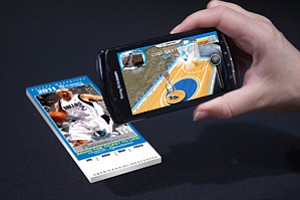 QUALCOMM INC.
CEO: Paul Jacobs.
Revenue: $10.99 billion in FY 2010; $10.42 billion in FY 2009.
Net income: $3.25 billion in FY 2010; $1.59 billion in FY 2009.
No. of local employees: Declined to state. However, in response to a San Diego Business Journal Book of Lists survey last year, a company official put Qualcomm's local full-time employment at 11,847 as of Aug. 1.
Headquarters: Sorrento Mesa.
Year founded: 1985.
Stock symbol and exchange: QCOM on Nasdaq.
Company description: Technology company specializing in hardware and software for mobile devices.
The screen of your smart phone reveals a 3-inch-high cartoon man standing on your tabletop, shifting his weight back and forth while balancing a teacup with one hand...