BIOTECH: COMPANY OPENS 'CROWDSOURCING' CONTEST, AIMS TO IMPROVE MACHINE
Game on: Life Technologies Offers 7 $1M Prizes to Problem Solvers
Monday, May 2, 2011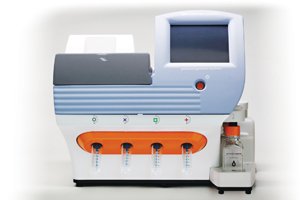 LIFE TECHNOLOGIES CORP.
Chairman and CEO: Gregory T. Lucier.
Revenue: $3.6 billion in 2010; $3.3 billion in 2009.
Net income: $377.9 million in 2010; $144.6 million in 2009.
No. of local employees: 1,700.
Headquarters: Carlsbad.
Year founded: 2008, through the merger of Invitrogen Corp. and Applied Biosciences.
Stock symbol and exchange: LIFE on Nasdaq.
Company description: A global biotechnology company that develops and sells products for life sciences research and biopharmaceutical production.
In its quest to make a new personal DNA-decoder machine faster and more precise, Life Technologies Corp...