STAFFING: HEALTH CARE REFORM LIKELY
HEALTHY IMPACT
Monday, January 31, 2011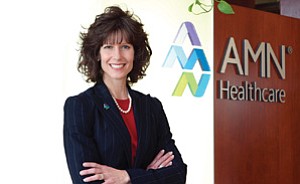 AMN HEALTHCARE
CEO: Susan R. Salka.
Revenue: $760 million in 2009; $1.2 billion in 2008.
Net income/loss: $122.2 million net loss in 2009; $34.4 million in net income in 2008.
No. of local employees: 507.
Headquarters: Carmel Valley.
Year founded: 1985.
Stock symbol and exchange: AHS on the New York Stock Exchange.
Company description: Provides travel nurse, per diem local nurse, allied and temporary physician staffing, and permanent physician placement services.
Health care reform may be a permanent fix to provide every American with basic medical services, but look to temporary staffing firms to do a lot of the heavy — and challenging — lifting on the patient care recruitment front...