TELECOM: COX COMMUNICATIONS PLANS TO INTRODUCE CELL PHONE SERVICE TO THE SAN DIEGO MARKET IN MID-2011 OR '12
Cox's New Calling Card
Monday, February 28, 2011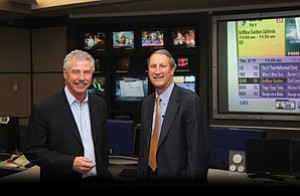 COX COMMUNICATIONS INC.
President and CEO: Pat Esser.
Revenue: $9.0 billion in 2009; $8.7 billion
in 2008.
No. of local employees: 2,000.
Investors: Cox Communications is a subsidiary of Cox Enterprises Inc., a privately held, $15 billion company with interests in print media and Internet businesses. Properties include AutoTrader.com Inc., Internet directory Kudzu.com, and Valpak Direct Marketing Systems Inc., which distributes coupons in the mail.
Headquarters: Atlanta.
Year founded: 1964, as Cox Broadcast Corp.
Company description: Cable television, Internet and telephone service provider.
Cable television executive Bill Geppert got a glimpse of the future, way back in the early 1980s...