SPORTS BIZ: FIRM GOES EXTRA MILE TO SELL MARATHONS, MEDIA
This Company Is Looking for Some Good Competition
Monday, February 28, 2011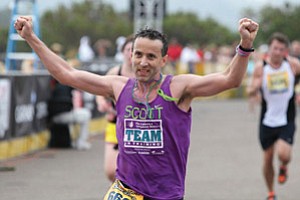 COMPETITOR GROUP INC.
CEO: Peter Englehart.
Revenue: Would not reveal but reportedly will be 50 percent greater in 2011 than 2010.
No. of local employees: 180.
Investors: Falconhead Capital LLC.
Headquarters: Sorrento Mesa.
Year founded: 2008.
Company description: Endurance sports media and event management.
In the marathon business retaining customers is a recurring challenge...