TRANSPORTATION: BIG DEALS EXPAND $370M FAMILY-OWNED BUSINESS
Ace Parking Extends Its Empire Across the States
Monday, April 25, 2011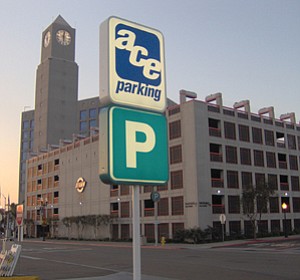 ACE PARKING MANAGEMENT INC.
CEO: John Baumgardner.
Revenue: $369 million in 2010.
No. of local employees: 1,671.
Investors: Family-owned.
Headquarters: Downtown San Diego.
Year founded: 1950.
Company description: Privately held Ace Parking Management Inc. provides parking services to garage and parking lot owners with a focus on commercial buildings and hotels.
San Diego's Ace Parking Management Inc...