TECHNOLOGY: FIRM EXPECTS TO HAVE 5,000 KIOSKS OPERATING BY 2013
Funding Helps ecoATM Answer The Electronics Recycling Call
Monday, April 11, 2011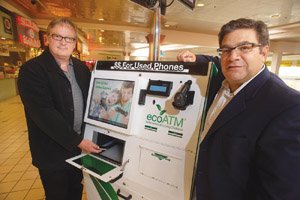 EcoATM
CEO: Tom Tullie.
Revenue: Would not disclose.
No. of local employees: 15.
Investors: Coinstar Inc., Claremont Creek Ventures, Tech Coast Angels, Tao Venture Partners.
Headquarters: Sorrento Valley.
Year founded: 2008.
Company description: Designer and maker of automated self-service kiosks that accept unwanted consumer electronic devices in exchange for cash or rebates.
Cell phone recycling is about to become more common following an infusion of $14...