SPORTS BIZ: PADRES' PRESIDENT SAYS FANS ARE BUYING IN TO TEAM'S EXCITING STYLE OF PLAY
Winning game plan
Monday, April 4, 2011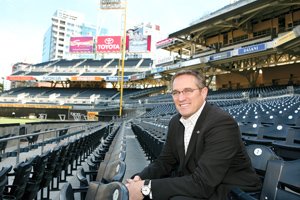 SAN DIEGO PADRES
CEO: Jeff Moorad.
Revenue: $159 million in 2010, according to Forbes Magazine.
No. of local employees: 200.
Investors: Moorad and a dozen other partners, including former NFL quarterback Troy Aikman, who are purchasing the team from John Moores.
Headquarters: Downtown San Diego.
Year founded: 1936, as a member of the Pacific Coast League; joined the National League in 1969.
Company description: Major league baseball team.
Luring fans to baseball games, or any sporting event in San Diego, has always been a challenge, but the San Diego Padres may have an even tougher task this season...