TECHNOLOGY: DEVICE IN WIRELESS PREGNANCY REMOTE MONITORING KIT CREATES BUZZ
Qualcomm, Institute Have Sense of Moms' Health Needs
Monday, November 22, 2010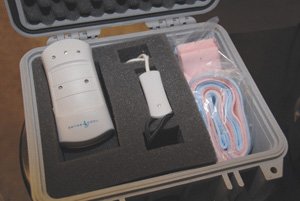 SENSE4BABY
Product developer: West Wireless Health Institute.
Investors: West Wireless Health Institute and Qualcomm Inc.
What makes the product innovative: The wireless fetal and maternal monitoring device is intended to enhance health care, reduce costs and address an unmet health need throughout the world.
A new San Diego-based collaboration focused on mobile health in remote parts of Mexico is looking to better connect health care providers to expectant mothers dealing with high-risk pregnancies...